Whitepaper
Comparing Vulnerability and Security Configuration Assessment Coverage of Leading VM Vendors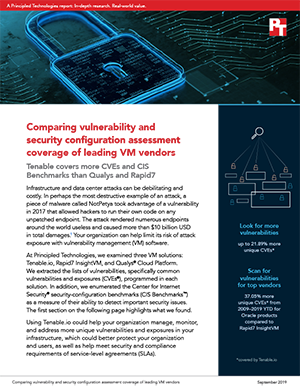 The foundation of vulnerability management is vulnerability assessment, but the differences in VA coverage between vendors are not always obvious. A new study demonstrates that Tenable stands high above Qualys and Rapid7 in vulnerability assessment (VA) and security configuration assessment (SCA) coverage.
Download the report by market research firm Principled Technologies to learn:
How Tenable, Qualys, and Rapid7 compare in overall vulnerability detection coverage
How the 3 companies compare in vulnerability detection by vendor (Oracle, Adobe, IBM, etc.)
The breadth of each company's SCA coverage of the CIS benchmarks
If you're looking for an analysis of VA and SCA coverage, this report provides an objective, third-party review of the market. Download the free report today.