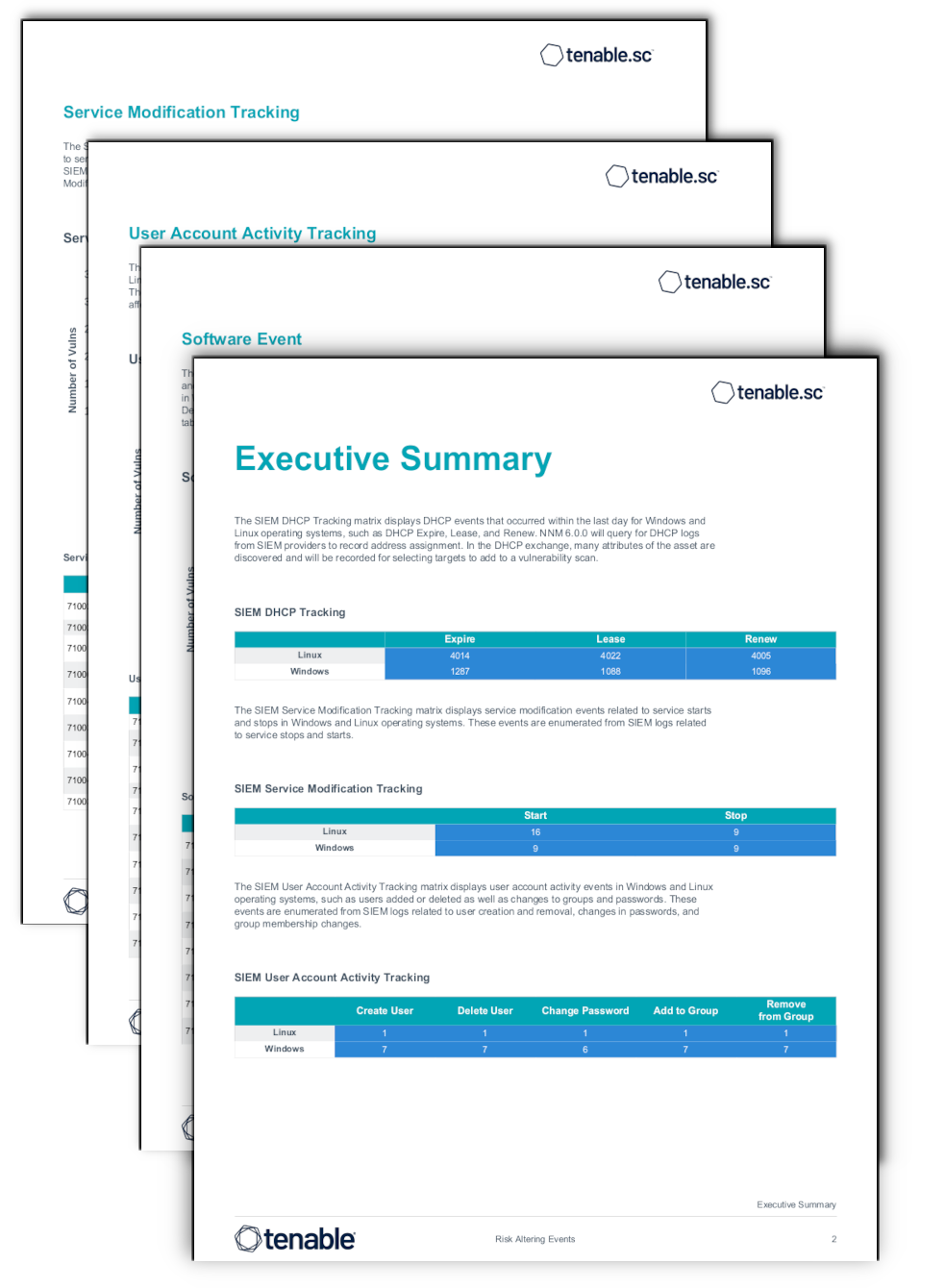 There are several events that often cause the risk posture of an asset to change, such as a new user account or a service stopping or starting; these are called risk-altering events. Organizations use SIEM products to consolidate and analyze these events. Nessus Network Monitor (NNM) 6.0.0 has the ability to pull these events from SIEM products, which downloads four categories of risk altering events. Tenable.sc now supports collecting these events from NNM by bringing these types of events together into this report.
NNM provides security teams with the ability to poll events every five to ten minutes. This new service identifies assets from DHCP logs as well as events that track changes to risk posture, such as software installations, account changes and service changes.
These events are broken down into four categories:
Software Detection: The addition or removal of software alters the risk profile of an asset, and this event should be recorded for risk analysis. When users or software management systems deploy or install software, the operating system records the process. NNM will use common language and analysis of logs from the SIEM to find these events and convert them into plugin data, which can be used to automate a vulnerability scan when software changes occur.
User Account Activity: The modification of user accounts alters the risk profile of an asset. This includes adding users to groups, changing passwords, etc., and these events should be recorded for risk analysis.
Service Modification: Service modification is often related to software installation, but when a service is added, stopped, or started, the risk profile of the asset will change. NNM will ask for these service-related events and provide the details based on the data collected.
Assets Discovery: NNM will query for DHCP logs from SIEM providers to record address assignment. In the DHCP exchange, many attributes of the asset are discovered and will be recorded for selecting targets to add to a vulnerability scan.
Organizations are often required to maintain an asset inventory to adhere to compliance, such as the CIS Critical Control 1. As part of the compliance process, the security team needs to have an accurate count of the assets on the network, including assets not owned by the organization. Since many assets are not static, the likelihood of having full asset coverage in an active scan is slim. Yet security teams are expected to provide an accurate asset inventory, despite the constantly changing network. This data can be leveraged to support compliance-based use cases, perform risk analysis, and establish new scan activities. This report is tailored to assist security teams with identifying assets and events that alter the risk posture.
This report is available in the Tenable.sc Feed, a comprehensive collection of dashboards, reports, Assurance Report Cards (ARCs), and assets. The report can be easily located in the Tenable.sc Feed under the Discovery & Detection category.
The report requirements are:
 Tenable.sc 5.20.0
 Nessus Network Monitor 6.0.0
By incorporating risk-altering event analysis, Security Directors can enrich the organization's Risk-Based Vulnerability Management (RBVM) Program. Tenable.sc brings the collected events together with active and passive scanning to increase asset detection and improve risk awareness. Discovery is the first step in the RBVM lifecycle; the data in this report extends the scope of information provided to organizations to enable better asset discovery.
This report contains the following chapters:
Executive Summary: The Executive Summary provides a quick view into events captured from SIEM products. An operations team is provided with a snapshot of four different types of SIEM events captured by NNM 6.0.0.
Risk Altering Events: The Risk Altering Events Chapter provides an operations team a detailed view into the three different events captured by NNM 6.0.0. The Risk Altering Events identify detected service modifications, user account activity, and software modification activity.
DHCP Asset Detections: The DHCP Asset Detections chapter is broken up into three sections that relate to SIEM DHCP Tracking. The sections display DHCP events that occurred within the last day, between two to ten days, and more than 10 days ago.