Tenable rated the highest of all 2020 "Customers' Choice" vendors in Product Capabilities in the 2020 Gartner Peer Insights "Voice of the Customer" Report
Need a solution to help you better identify, prioritize and manage vulnerabilities across your modern attack surface? This year's report features peer insights for those looking for a vulnerability assessment solution. From ratings and reviews, these lessons learned can help you make the best decision for your organization.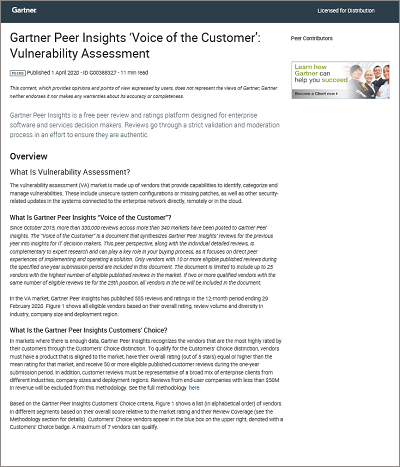 In the 2020 "Voice of the Customer" Report, Gartner Peer Insights synthesizes reviews of vulnerability assessment solutions for the past 12 months into insights for IT decision makers. In the report, you'll find:
An analysis of more than 555 reviews and ratings in the vulnerability assessment market from a 12-month period ending Feb. 29, 2020
Ratings for eight vendors in different segments based on overall score for easy comparison
Information about how satisfied existing customers are with a vendor's product, including negotiation processes, support, and implementation
Summarized demographic results to give you a sense of the reviewers' company size, industry and geographical region
We believe this is a valuable peer perspective that can play a key role in helping you choose the best solution for your vulnerability assessment program.
Tenable: Highly Rated for Cyber Risk Management

Tenable has an Overall Rating with the most 5-out-of-5 star ratings of all the March 2020 Customers' Choice vendors for Vulnerability Assessment on Gartner Peer Insights, based on a total of 142 ratings as of 7/7/2020.
Tenable is also the highest rated in Evaluation & Contracting, Integration & Deployment and Service & Support among all vendors named a 2020 Gartner Peer Insights Customers' Choice for Vulnerability Assessment in this 'Voice of the Customer' report.
Based on 142 reviews, 151 reviews, and 149 reviews, all as of 2/29/2020. Gartner Peer Insights Customers' Choice constitute the subjective opinions of individual end-user reviews, ratings, and data applied against a documented methodology; they neither represent the views of, nor constitute an endorsement by, Gartner or its affiliates. GARTNER is a registered trademark and service mark of Gartner, Inc. and/or its affiliates in the U.S. and internationally and is used herein with permission. All rights reserved.
"We needed to switch to a new vulnerability management tool when BeyondTrust announced they were getting out of the v-m business, and even they recommend Tenable. I see why - they are the industry leader and deserve to be. Tenable is easy to use and easy to understand. You can configure their reports down to the level of each individual cell in a table, and it's not hard to learn. I wish we'd switched a long time ago." - Analyst Network and Infrastructure in the Transportation Industry
"Tenable.IO Meets My Needs Now And In The Future. Tenable.IO meets all my immediate needs and has the capabilities to meet future needs and use cases. The Tenable team is top notch and provide outstanding support and advise whenever needed and are a true partner." - Manager, Application Security in the Transportation Industry
"Tenable IO Is The Best I Have Seen For Reporting and Remediation Of Vulnerabilities...I Love The VPR Rating That Compliments The CVSS By Giving Real Data On Threat Intelligence." - System Administrator in the Education Industry